Look Inside The New Cannabis Consumption Tasting Room And Spa From Papa & Barkley, Humboldt Social
Sunrise Mountain Farms is thrilled to be a part of the new cannabis consumption tasting groom and Spa from Papa & Barkley's Humboldt Social. Check out the Forbes Magazine article below by contributor, Lindsey Bartlett.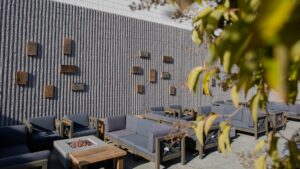 Photo by Leon Villagomez.
Papa & Barkley Social is the new weed consumption space from the minds of cannabis wellness brand Papa & Barkley and Northern California restaurant group Humboldt Social. Patrons 21-and-up will find a unique cannabis hospitality concept with a curated dispensary plus luxury day spa, food truck, and yes, a legal, social-distanced outdoor cannabis consumption lounge. The 7,000-square-foot lounge and dispensary is located inside Papa & Barkley's massive production and manufacturing space. The space was a labor of love: Papa & Barkley reconstructed a shuttered K-Mart, turning it into a high-tech, flourishing cannabis production facility. And now, a dispensary storefront and tasting room. The local Humboldt cannabis farms featured during Papa & Barkley Social's initial launch are Sunrise Mountain Farm, Emerald Queen Farms, and DewPoint Farms.
Read the full article here.