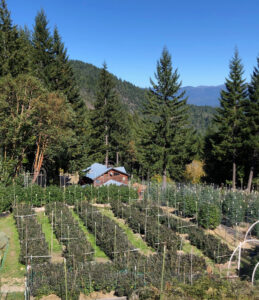 **This article is a repost from HCGA's Terpene Tribune Issue 2, November 2021
Author: Alegria Sita
We are delighted to hear that Project Trellis funds are rolling out. We sat down with Lorelie Sandomeno of Sunrise Mountain Farms, who is the recipient of three different grants through the Project Trellis Micro-Grant and Equity Program.
Sandomeno had never applied for grant funding before. Nevertheless, she decided to apply for $10,000 in the first round of Trellis funds in December 2019. To put forward her best effort, she enlisted the support of a friend with grant-writing experience, "It's like coming up with a mini-business plan to meet application deadlines and criteria. It requires hours of dedicated time to write these grant proposals. We wrote a lot on the history of our farm, our regenerative farming practices, and our business goals. We told the story about our brand to provide background and understanding of who we are, what we're doing, why we're doing it, and what our goals and vision are."
Sandomeno applied for monies to support the costs of relocating one of their outdoor gardens to a new site on their property and increasing their water storage to meet the required conditions of approval. Sandomeno's grant was ranked #5 out of over 80 grant applications. The funds were used to cover the costs of building materials and companion plants and purchase two 5,000 gallon poly water tanks.
Round two of Project Trellis launched in December of 2020. With the success of her first grant award under her belt, Sandomeno decided to apply for an additional $10,000 grant, this time to offset the costs of a 140,000-gallon steel water cistern. "We secured the price of our tank in January, and we are so glad we did. Within this last year, with Covid and the rising cost of materials, the same tank now costs double what we paid for it last year."
Sunrise Mountain Farms was successfully awarded the $10,000 Project Trellis funds for round two, this time ranking #1 out of over 50 proposals.
"While $10,000 is a drop in the bucket, it's hugely helpful. We would not be able to move forward with the project if we had not received funding from Project Trellis to help with the expense, especially now while the cannabis market has taken such a dive. The business cannot sustain some of the expenses it was able to sustain a year ago. We are very grateful," reflected Sandomeno. "We've also applied for additional grant monies through the noncompetitive equity grants. We just learned that we have been awarded these equity funds, and we will also put these funds towards increasing our water storage capacity."
Now that Project Trellis is underway, our industry is reaping the benefits of the program. "The Humboldt County Economic Development Department has been very helpful in assisting us through the [grant] processes," states Sandomeno. "The first year, the funding took a long time to come through since it was a new program and they were figuring out the complexities… but since Economic Development Specialist Peggy Murphy came aboard, there is an ally for award recipients. The grant funding they are providing is helping farmers meet their conditions of approval, realize their goals of having functional and permitted farms, and assisting us to stay in business. The continued operation of this program can provide the necessary support for Humboldt County's cannabis economy to remain relevant and competitive."